Threes

3 years - 4 years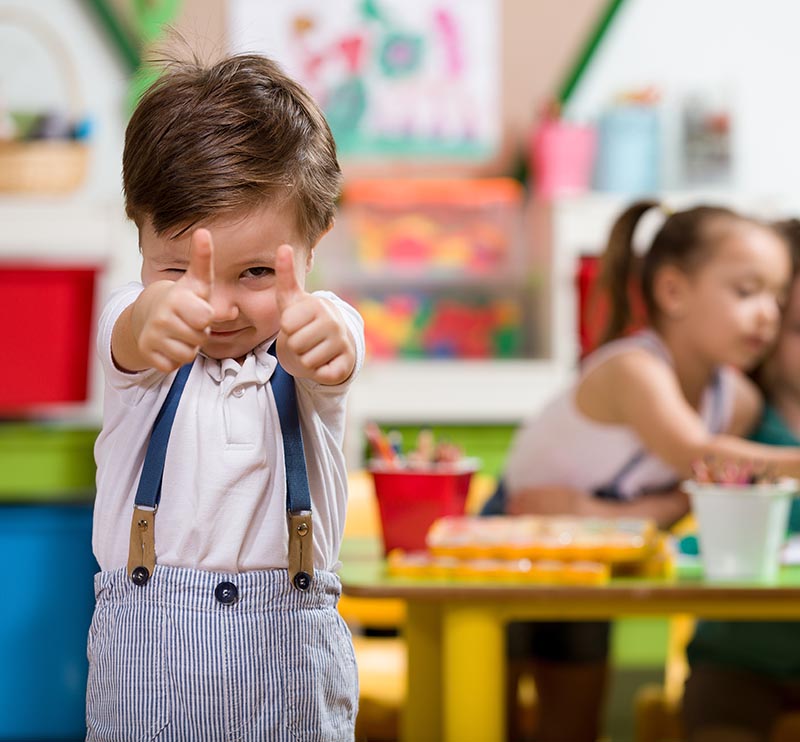 In our 3s and 4s classes, children continue to grow intellectually, physically, and emotionally as they cultivate self-care and social habits. Teachers work closely with the students and institute both team building techniques and private instruction using effective hands-on materials.
At this stage, our daily routine becomes a little more structured to start introducing our preschool aged children concepts that they will be required to know in Kindergarten.
Enrollment
Schedule a Tour
Toilet Training
Our children in our preschool programs are expected to be fully toilet trained. Accidents do happen at this age and are expected. Please keep a change of clothes for your child at the school so that we can accommodate children who have accidents.
Note: When potty training begins, please dress children in clothes that will help increase independence of this new skill. Clothes to avoid: overalls, Onesies, jumpers, & body shirts.
Meals and Snack
The Center will provide nourishments three times each day. Breakfast, lunch, and an afternoon snack will be distributed. All meals and snacks are prepared based on the USDA Child Care Food Program Guidelines. Menus are posted and sent home weekly. This Center participates in the Child and Adult Care Food Program of N.C. Dept. of Health & Human Services, which meet all federal recommended daily nutritional standards. All parents/guardians are requested to fill out an annual Child Food Program Eligibility Application in order for the Center to maintain state compliance.
The center will provide food for children who are on special diets that are prescribed by the child's physician. Parents must have a Physician or Dietitian to substantiate the need for a special diet in writing. Notes from Physicians are needed to substantiate food allergies.
Extra snacks, other foods and /or beverages are not permitted in the Center. The Center provides a balanced snack, which meets nutritional guidelines. Soft drinks are not allowed.
Quite Time/Naps
Provisions will be made each day for each child to rest. A minimum of 2 hours per day and maximum of 2 ½ hours rest time will be available for each child. Please provide 2 crib sheets and a small blanket to cover cots at nap-time. The linen should be picked up every Friday afternoon to be laundered and brought back to the Center on Monday mornings. Please label your child's linen and all personal items with his/her name or initials.
Activities & Learning
At Cornerstone, our preschool curriculum teaches critical lessons and sets the foundation for children to embark on their upcoming path through elementary school. Games, playtime, and activities will cover various materials in math, literacy, science, creative arts, and the alphabet (recognition & sounds).
In addition to the daily work in the classroom, students will also enjoy social time during lunch, free play, outside time, group projects, and exclusive school-related events. The program ensures the day is full of activities to stimulate the children and instill an organized, structured routine. This leads to students' ability to follow a routine, anticipate events, and manage expectations.
What to Bring
2 sets of seasonal changing clothes, socks and underwear included – at all times
2 sets of clean linen – at all times