Current News

May News
Buzzworthy
Nat'l Physical Fitness & Sports Month
CCCDC talks to the kids about the importance of exercise and physical fitness. CCCDC staff and students will wear their favorite sports jersey on May 18, 2022. Our center will host outside races.
Great books to read:
Stomp, Wiggle, Clap and Tap
I Got the Rhythm
Move Tour Body
Froggy Plays Soccer
Dancing Feet
Teacher Appreciation Week
May 2-6
We are excited to show our WONDERFUL Teachers how much we appreciate their effort, consistency and care given to our students. Please don't forget to show your love for you child's teacher this week.
Crafts this week:
Teachers will plant seeds with their students.
Monday, May 2 - Pirates Popcorn
Tuesday, May 3 - Editable Delight
Wednesday, May 4 - Coffee and Donuts
Thursday, May 5 - Gourmet Cookies and Water Bottles
Friday, May 6 - Fresh Lemonade!
Children's Book Week
Reading is a Superpower
May 2-8
Engage with your kids during Children's Book Week, encouraging them to read, talk about books, connect with book creators, and more. The sky is the limit on how you can be involved in encouraging a life-long love of reading.
I Am Smart, I Am Blessed, I Can Do Anything!
Our Class is a Family
All The Colors That I See
The Very Hungry Catrrpillar
Chicks Chicka Boom Boom
Happy Mother's Day
May 8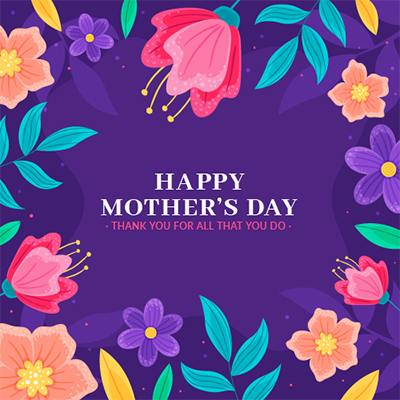 To the most amazing moms! Thank you for sharing your children with us. May your Mother's day be as wonderful and as perfect as you are!
Mothers have a job that is ever-changing and frequently exasperating. Moms don't get days off, nor do they receive handsome salaries or generous pensions. Instead, their rewards come in the form of sticky kisses, necklaces made of elbow macaroni, and the satisfaction of seeing their children grow up to be happy, healthy adults.
Start children off on the way they should go, and even when they are old they will not turn from it.
Proverbs 22:6
Memorial Day
May 30
For many Americans, Memorial Day conjures up images of hamburgers, hot dogs, swimming pools, and summertime. But the last Monday in May serves, most importantly, as a time to honor those who died while fighting in the U.S. Armed Forces. It's a holiday steeped in somber American history and tradition. We will be closed on Monday, May 30 in observance!
REMINDERS
We are currently hiring qualified teachers!.
Happy Birthday to all of our May birthdays.
Please apply sunscreen to your child/children before arrival.
Parents please remember you can pay your tuition via CashApp. Our username is $nccccdc.
Please provide weather appropriate clothing for your child/children (full sets of summer attire).
EVENTS
May 02 - 06: Teacher Appreciation Week
May 02 - 08: Children's Book Week
May 05: Cinco De Mayo Activities
May 05: Muffins for Moms @ 6:30 - 10:00 AM
May 08: Happy Mother's Day
May 15: Chocolate Chip Day
May 18: Wear Sports Jerseys
May 16 - 20: Nat'l Police Week
May 20: Pizza Party Day
May 27: Pajama Day & Grape Popsicle Day
May 30: Memorial Day (Closed)
Calendar of Events
Current Newsletter
Archived Newsetters